Podiums, Prize Money and Parkour History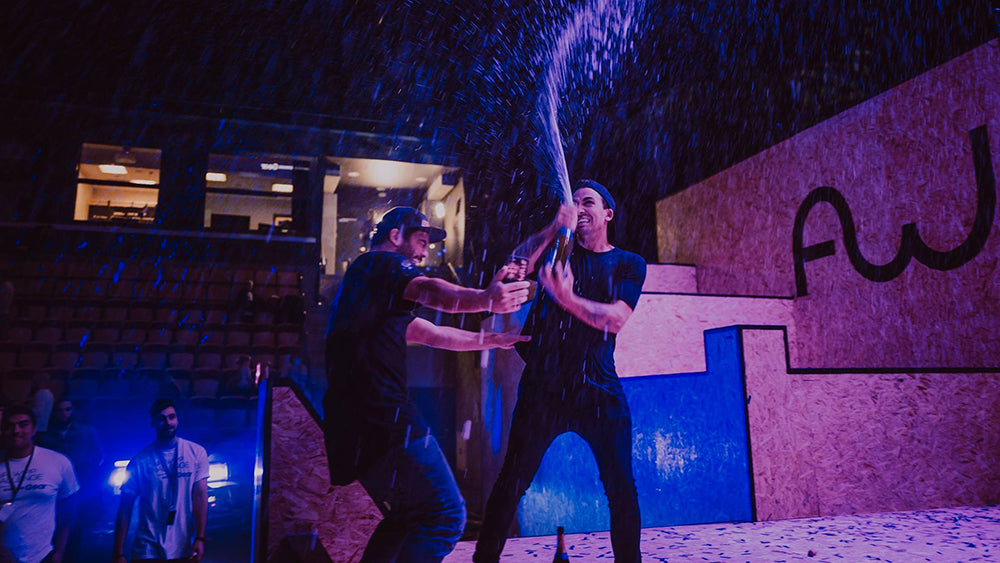 One of, if not the premiere event of the annual global parkour circuit returns to Helsingborg, Sweden for the 5th time. Hot on the tail of last month's Red Bull Art of Motion in Santorini, athletes descended on a slightly more accessible and overcast corner of Europe to showcase their talents. Podium places, prize money, and a small piece of parkour history are all up for grabs in what was shaping up to be the most exciting Air Wipp Challenge to date.
The brainchild of Marcus Gustafsson and Filip Ljungberg, the Air Wipp competition has never been a humble affair - with the first edition in the summer of 2012 drawing a crowd of 4,000 and attracting the then-controversial yet undeniably impressive sponsorship courtesy of Betsafe. Fast forward a few years the event is still attracting top-tier sponsors like Samsung and takes place at the largest indoor venue Helsingborg has to offer - The Helsingborg Arena. Safe to say they really know how to organise an event (and an afterparty if all the stories are to be believed!)
As is increasingly often the case the field was stacked, top contenders this year included the entire podium of this years AoM - Alexander Titarenko (or as we have all come to know him 'Blue Shorts'), Nate Weston and Dimitris 'DK' Kyrsanidis. Last year's winner Joey Adrian, of course, be attempting to defend his title against the likes of Calan Chan and Jesse La Flair, as well as Farang's very own Dominic Di Tommaso.
This year saw the inaugural fully fledged women's competition (as opposed to the women competing with the men in one main field) - a clear sign of the times and progress of the sport, allowing more women to take part than ever before. Tempest's Sydney Olson being a strong favourite to take the crown as well as the €1000 prize money.
The youth competition also returned with male athletes 15 years old or younger eligible to take part. The field was largely comprised of the local upcoming Swedish talent, but a few intrepid young lads also managed to make the journey from neighbouring countries to showcase their abilities, and potentially grab that seriously epic boost to their weekly pocket money.
On the eve of the qualifiers, Helsingborg Arena was already filled with athletes plotting out potential lines on what many were claiming was an improved course. The atmosphere was light-hearted with people gradually arriving and catching up with one another.
 An interesting thing to note about the AWC is that the course is constructed out of plywood - a material a lot more forgiving than concrete of Santorini. From an athlete's perspective, this allows training sessions to be much longer and harder without taking too much of a toll on the body. What's great about that is that longer training times on the course invariably leads to cleaner runs in the main event. Plywood also has a subtle springiness to it which allows athletes to more easily perform difficult tricks. It's a detail that's so easy to overlook, but actually plays a huge part of how the competition ends up feeling to watch.
The next morning was much of the same, with virtually all the available hours before the 1 pm qualifiers blocked out for training. Some of the last minute arrivals included perennial contenders Alex Schauer and last years AoM winner Bart Van Der Linden. The stage was getting crowded with people frantically trying to get the most out of every last second of course availability.
 The judges for all the events are Kie Willis on the category of execution, Marcus Gustafsson on creativity, Gabe Nunez on difficulty and finally Nico Wlcek judging flow. I managed to have a quick word with Kie before the qualifiers started: I asked if there would be an advantage to changing up one's style to reflect the differences in judging at an event like Air Wipp compared to AoM. He explained to me that that isn't the case - as the judging criteria is designed to be virtually the same, with the only difference being that all the judges also give an 'overall impression' score out of 100, along with a score from their own category. The highest and lowest overall impression scores for each athlete are binned, leaving a final score out of 600.
65 people signed up for the on-site qualifiers - but only 12 would be making it through to the main event to compete alongside Dom Di Tommaso, Joey Adrian, 'DK', Jesse Peveril, Jesse La Flair and Krystian Kowalewski.
Pasha kicked things off with a solid run; throwing his signature off-axis twists and double frisbee's, but an unfortunate little mistake halfway through probably cost him a place in the finals. Other notable runs included Calan Chan's; whose movements were so next level that even Anan struggled to call them in real time. (Kie eventually went on to say "That was my favourite run I've seen in a competition ever" - which is no small thing coming from him!)
Britain was well represented by Luke Stones, Robbie Griffith, Joe Scandrett and John Stone who all put in well executed and clean runs. 'Blue Shorts' and Erik Mukhametshin both killed it as expected with runs packed full of moves both powerful and technical in equal measure. 
Unfortunately, towards the end of the qualifiers, one of the competitors who was clearly feeling the effects of adrenaline took a nasty fall onto his head, causing the atmosphere of the room to change dramatically until medical attention arrived. Taking no risks, the paramedics moved him onto a stretcher and took him to the hospital before the event resumed.
The first competitor to run after that unexpected intermission was home nation hero Kevin Franzén - he re-energized the room with an electrifying run, stomping a randy off the bottom part of the stage for his final move. In fact, all the remaining runs were very impressive and diverse in character.
But after an intense two and a half hours only 12 could progress - in no particular order they were; Joe Scandrett, Erik Mukhametshin, Alex Schauer, Masahito Seki, Kevin Franzén, Jeff Garrido, Nate Weston, Robbie Griffith, Alexander 'Blue Shorts' Titarenko, Kirya Kolesnikov, Valtteri Luoma-aho, and Calan Chan.
- - -
Next on the agenda was the women's competition. It's worth noting that the competition was open to female competitors of all ages in an understandable move. After a few high profile drop-outs due to injury and other commitments, the field stood at 14, with ages 13 through to 26 represented.
The first round ran smoothly with all the ladies giving a good account of themselves. But there could only be six finalists; Hikari Izumi - 22 from Japan, Lizzy Isaena - 20 from Russia, Sam Morasutti - 20 from Canada, Lilou Ruel - 14 from France, Elise Bickley - 13 from the UK, and qualifying with the top score was Sydney Olson - 24 from the USA.
But in the end, it was the youngest competitor Elise Bickley who would go on to steal the show, receiving a standing ovation for her final run in which she managed to incorporate both a double flyaway and a rollbomb! She took first place convincingly, followed by Sydney in second with her short but powerful and clean run, and young Lilou in a deserving third for showcasing tricky movements like her 360 dive roll.
Max Henry - author of The Parkour Roadmap, and 10 year veteran of the sport had this to say about the result:
The youth competition that followed was an equally exciting affair, and especially for all the families of the athletes who now made up a decent portion of the crowd. I'd been tipped off to watch out for the runs of local favourites Valle Sparrman and Joel Larsson, and I was personally excited to see Travis Verkaik in action after seeing him busting out multiple kong gainer fulls at Daggettween in London the previous week.
Some very impressive movements - not even considering their age saw Kevin Hoving and Tobias Roest - both from the Netherlands, Valle Sparrman, Vincent Floriants and Joel Larsson - all from Sweden and Travis Verkaik from the UK make it through to the final round.
The final round was fairly close as far as the podium was concerned. Vincent wowed the crowd with a running gainer gap towards the end of his run, and Travis maintained the intensity with a cast gainer attempt which didn't quite pay off, but he managed to regain his composure and make it to the end of his run. Joel's otherwise smooth run was marred by a slight bail on a double side flip.
It was Tobias who eventually did enough for the judges to earn himself 1st place, with Travis coming in 2nd, and Vincent picking up a close 3rd - Joel narrowly missing out on a podium spot.
It was a sensational day for our sport, with the discipline really starting to mature and blossom into something that not many would have anticipated 10 years ago - with the kids of today throwing stuff down that the mature athletes of that era wouldn't even imagine possible. The main event was still to come and certainly promised to deliver.
- - -
I returned to the arena early the next morning to start work on this article and the crew were already hard at work preparing for the evening. Air Wipp being the grassroots company they are hired well-known parkour filmmakers Toby Segar of Storror, and Giles Campbell-Longley of The Motus Projects to capture the event - they had several edits to produce in only as many hours so were slaving away in front of their MacBooks. Big shoutout to Josefin and Ramona for keeping us all topped up with coffee and food!
 The athletes started arriving in the early afternoon for the last training session before the main event. It was a real privilege to be a fly on the wall for the training - with Nate Weston making repeated attempts at this huge sideflip rail pre at height, and power moves and complex maneuvers being drilled by all.
It was finally time for the main event. The arena had been filling up for a while, with only a few empty seats up by the rafters. The lighting and pyrotechnics setup was very impressive - the production value was clearly unlike any other freerunning competition around. Anan and Filip were our hosts for the evening; they made quite a quirky combo, and between them delivered an entertaining opening speech across three different languages.
Ado was kept to a minimum, and before we knew it Nate Weston was making his way to the stage. His run was enthralling but a stumble right at the end left everyone with the feeling like it wouldn't be enough for this level of competition. Jesse La Flair was next up; he elected to sacrifice a lot of flow points to spend time setting up a very interesting one-handed palmflip from a seated position on a bar - something I'm not certain I've seen before. He was very excited to land it and explained to Anan that was his only goal for the run.
 Third up was Masahito Seki who also stumbled during his run, but yet managed to keep it steezy with some quirky movements like a toe-giant gainer. Next was Krystian Kowalewski who powered through his time under the spotlight with what would probably be best described as multi-level tumbling; impeccable flow and highly acrobatic movements from the top of the course to the bottom.
Erik Mukhametshin bought all those big power moves we've come to expect of him. Dom Di Tommaso kept things chilled with an entertaining run that showcased his personality as much as his physical ability. Alex Schauer was the 7th athlete to run; it was all going so well until on the bars he landed a cast back extremely low - but being the experienced and level-headed competitor he is, he immediately stopped his run, taking no chances.
Jeff Garrido was next; he threw together a beautiful run packed with advanced movement but had to make a second pass at his final movement of the run, which to his credit managed to cover up fairly well. Joey Adrian met everyone's expectations of him with a nearly flawless run, which included an utterly stomped hanging cast back full. Jesse Peveril represented that more 'traditional' parkour style with huge running gaps and powerful quadrupedal movement around the course.
DK's run was very precise and loaded with highly technical stuff which he linked together well - he was clearly sailing through to the finals. Valtteri went hard straight away, opening with a triple A-twist, but he fudged the landing pretty badly. However, he regained his composure and managed to finish with a very impressive 'cartahara'. Kirya also started his run hard with a double webster, but also fudged the landing slightly and the rest of the run failed to leave much of an impression.
Next up was a run a lot of us were waiting for; Alexander Titarenko - donning those now infamous blue shorts - made his way to the top of the stage. His run was intense and featured a fat running gainer gap followed by a powerful descent to the bottom of the course. When asked how he thought the run went by Anan he paused for a moment and replied "My name is Alexander Titarenko AKA blue shorts." and left the stage - much to everyone's amusement.
Robbie Griffith was next up and kept things squeaky clean before finishing his run off with an extremely awkward and big precision which everyone appreciated. Joe Scandrett's run started off promising but a couple of small footwork errors accumulated and left him frustrated with his performance. Calan Chan was the penultimate competitor and we were all expecting something crazy. His moves were compelling, and then out of nowhere a huge running gainer gap over an awkwardly placed bar. Unfortunately, the impact from the gainer caused him to deviate from his plan, so he had to improvise the rest of his line.
Last up for the first round was home hero Kevin Frazén. The crowd was on their feet as he climbed up to the starting position. He kicked things off with a rollbomb, and then moved around the course with a lot of grace before stomping a randy to finish - much like in the qualifiers. The crowd more than approved! What a solid first round.
After several agonising minutes of deliberation the six athletes that would be progressing to the final round were revealed; qualifying for the final in 6th was DK with 480 points, 5th was Erik with 481 points, 4th Kevin with 489, 3rd Krystian with 496, 2nd was Blue Shorts with 505, and the highest placing run was Joey Adrian with 514 points. During the 25 minute intermission, I managed to catch up with Kie and discover that Jeff Garrido missed out on a spot in the final by a single point.
Personally, I was a little gutted that we weren't going to get to see another run from the likes of Calan, Nate and Valtteri in particular. But the show must go on, and it certainly did…
DK returned to the stage for the second time; he seemed composed. He kicked things off with a double side and then flowed straight into a running gainer and eventually a wall double full. He stomped some kind of double-leg snapu for his finisher, and I was left thinking 'wow, you can't really fault that in any way'.
Erik was next up; he elected to start with a very unusual cast layout inward front, before flowing around the course a little. The most arresting moment of his run was a giant straight into an absolutely huge stalled double flyaway, landing right on the edge of the stage - leaving a huge impression and drawing rapturous applause.
Third to go was Kevin. He strung something slightly longer but eventually ended up tacking on a chunk of his first run onto the end - even finishing with exactly the same movement, which while still impressive probably harmed the overall impression of the run. The crowd didn't seem to care though!
Krystian was the fourth to perform for the second time. He started with a very Cato-Aspmo-esque 540 dive roll, followed by a castaway and flowy transition into a back double full. It was a short yet decent run that showcased a lot of power and competence.
Blue Shorts made his way back to the top of the course for one last time; he indicated to Toby and Giles that he would be using all of the middle tier in his run. He kicked off with a clean 360 dive roll, then stepped back to prep something a little bigger… he ran towards a railing and literally running gainered with the aim of landing on it. Unfortunately his feet just missed the bar and he fell to the bottom part of the stage - but still managing to land on his feet. Clearly shook and disappointed he called the run there and then. It was a real bummer.
Joey was the final run of the evening, and the anticipation was high. Joey delivered a scintillating run packed with the classic markers of a top tier freerunner; double twists and the kind of connectivity that can only be achieved as a result of many hours spent on the craft. The highlight was probably the wall gainer full - something you seldom see anywhere, let alone in competition.
 As I'm sure you're all aware by now it was DK's run that impressed the judges enough to gain that 1st place prize - a competition placing he's no stranger to as a two time winner of the AoM in Santorini. But what you may not know is a single point separated 1st from 2nd place - with Joey Adrian oh so narrowly missing out on defending his title. Incredibly Erik Mukhametshin took 3rd place from Krystian Kowalewski by one point also.
- - -
The closeness of the result perhaps a bitter pill to swallow for some, but for the winners an irrelevant detail. It was a well-deserved win for DK who is clearly continuing to put in the work - he was the first one to want to head to the gym the next day to train. He joins the exclusive club of Air Wipp winners; Jason Paul, Pasha Petkuns, Kirya Kolesnikov and Joey Adrian.
The ladies and gentlemen of Air Wipp did it again. Putting on a truly epic show for the people of Helsingborg and for the people who follow the growth of this sport wherever it goes. I hear the contract with the arena is now up and something new has to be negotiated for next year. Knowing Marcus and Filip, the next incarnation will be at least as impressive, if not more. Watch this space. Congratulations DK.
...Oh and from what I can remember of it, the after party was indeed pretty good!
 All Photos By: Mickael Tannus