NYC - City Guide For Freerunners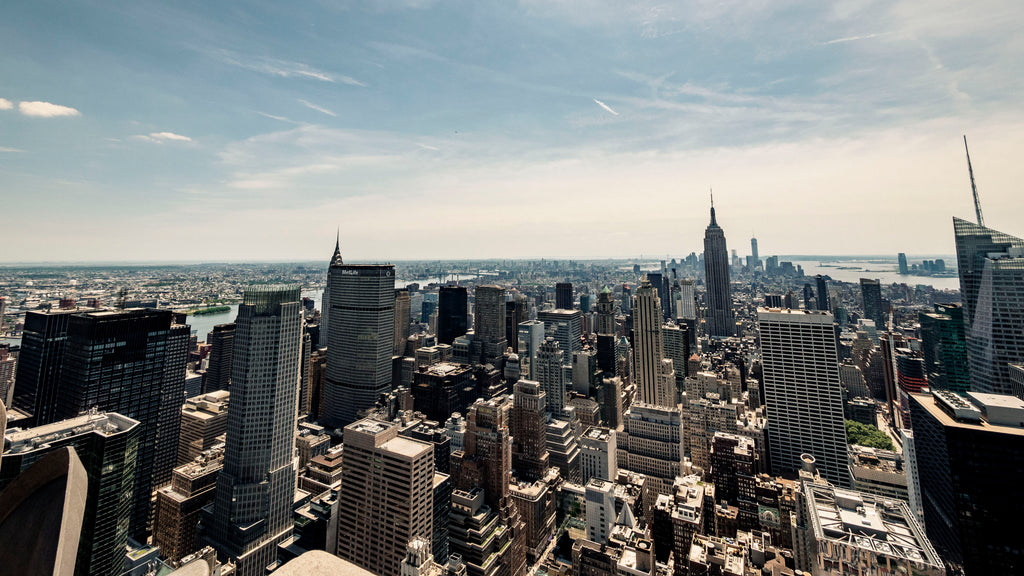 The City That Never Sleeps, a.k.a. The Empire City, a.k.a. The Big Apple.
Freerunners from all over the world who travel to the U.S. typically find themselves in New York City at some point. Whether you're here for an extended stay or only a few hours, make the most of your trip by hitting some of the city's most iconic spots.
House Rules
While the mile high skyscrapers sprawling across Manhattan may seem like an invitation to climb, bear in mind that trespassing is a criminal offense in America. I'm sure you've all heard stories about the NYPD, so it's probably in your best interest to avoid dealing with them. Rooftop at your own risk. You have been warned.
Also, a special note on security guards: Most of your garden-variety rent-a-cops can do little more than chastise you for jumping on private property and threaten to call the police, but please try not to piss them off too much. The last thing we need is heightened security at a killer spot just because you felt the need to shout obscenities at Paul Blart.
Getting Around
The first thing you should do when you arrive is to buy yourself a Metrocard so you can make use of the city's extensive subway and bus system (you can use the same card for both). You've got a few options here, so let me break it down for you:
Single Ride ($3): Almost never worth it since a single ride will cost you $2.75 with a standard Metrocard. It's a total waste unless you're literally only taking one trip.

Money on a Metrocard (any amount): This is my usual recommendation if you're trying to get around and you're here for a few days. You can choose how much money to put onto the card, and you get a small discount the more you spend. The MTA will charge you $1 for a new card, but you can refill it as many times as you want without paying the fee again.

Unlimited Ride ($32 for seven days, $121 for 30): If you plan on doing a lot of sightseeing and you're here for a long time, this is the way to go. 12 trips on a standard Metrocard will run you $33 + the $1 new card fee, so plan accordingly.
Worried you might get lost without WiFi? Do yourself a favor and download the Citymapper app (iOS and Android compatible). You'll get access to detailed maps of the subways and buses along with real-time updates on service issues (e.g., skipped stations, rerouted trains, etc.). Also, most train stations these days have free public WiFi, so you can download some maps for offline use while you're waiting for your next train.
Oh, and don't hop the turnstile. Sometimes cops are lurking just out of sight to catch "fare evaders," and it's really not worth the headache. Get caught and you might be saddled with a $100 ticket, so I suggest you just pay for the Metrocard.
The O.G. Spots
Looking for an authentic taste of parkour in NYC? Here are some of our most iconic and oldest training grounds.
SCOOPS
The Motus Projects 12 Hours in NYC: https://www.youtube.com/watch?v=uAyAWKBWp_o
Nestled in the courtyard of an LES apartment building, this is one of NYC's most iconic spots. The neighborhood kids have been playing a version of lava tag here for decades, and they started calling it "scoops" since the concrete structures look like they've been scooped out of the ground like ice cream. Hop on an F or J train to Delancey Essex to put yourself within a 5-minute walk of this spot.
I'd recommend coming here when you're feeling leggy, but there are some interesting vaulting challenges and plenty of places to work on flip precisions if that's your cup of tea. The locals are usually friendly and happy to share the space, but the playground is off limits. Similarly, the rooftop of the adjacent daycare should also be avoided.
HAMILTON FISH PARK (AKA "FISH," "HAM FISH")
Are you looking for something with a bit more verticality? Ham Fish is a 10-minute walk away from Scoops, and it's one of my favorite spots in the city. The park surrounds two large swimming pools, and there are small spots around the entire perimeter. The picnic tables up top make for a great warm-up area, there's a small calisthenics park near the basketball courts, and the playground has some interesting challenges.
If you're visiting during the off-season (September-June), you can experience the true gem of the park. The back pavilion has some of the best challenges in the entire city, and many people (myself included) consider it one of the best spots in all of NYC. It's a great place to work on arm jumps, strides, cat backs, and there are some great opportunities to string together some very long runs.
Unfortunately, this area is inaccessible while the pool is open during the summer and still considered "off limits" even during the offseason. Smaller groups are better, but sometimes you'll still get unlucky and have to deal with a park employee who threatens to call the police on you.
One more note here: This spot is ancient and not maintained. Mind the concrete toppers on the walls and always check your surfaces. The last thing we need is a stone slab smashing one of the cars in the parking lot below.
TOMPKINS SQUARE PARK
Steve Zavitz - Liberated: https://youtu.be/8Awxfbk7VEs
Go for a bar crawl at this classic playground-meets-calisthenics trio of structures in the East Village. The iconic Tompkins Square Park is a favorite for athletes who like to navigate tight spaces or want to work on their footwork (try striding the top pegs for an extra challenge). The closest stop on the train is 1st Ave on the L, but it's also about a 15-minute walk from Scoops or Ham Fish.
The bars here are packed together, so don't expect a ton of massive laches or power moves. This is an ideal spot to work on body awareness, flexibility, and creativity, so it works well for both advanced and beginner athletes. Be aware that Tompkins is a pretty popular spot for other athletes and kids, so try not to accidentally shoulder check anyone while working on your lines.
AMPHITHEATER (AKA "EAST RIVER AMPHITHEATER," "THE BANDSHELL," "AMP")
You can find the Amphitheater along the East River, and taking the scenic route will reward you with some truly photo-worthy views of Brooklyn and the bridges connecting it to Manhattan. Unfortunately, it's a bit of a hike from the other spots in the Lower East Side (Scoops is the closest), so plan accordingly. If you're in a rush, you can always try Citi Bike or borrow a longboard from a local since there are no train stops nearby.
Walk behind the bandshell to find a series of handrails and curving walls that are ideal for vaulting challenges and lines. Just be sure to check your surfaces before you attempt any heftier jumps. The painted walls in combination with the thin layer of dust that this spot tends to accumulate can lead to some pretty nasty bails if you're not careful.
BATTERY PARK (AKA "NELSON A. ROCKEFELLER PARK")
Across the street from these apartments
Steve Zavitz - EMPIRE: https://youtu.be/g8FRGboFjWo
"Battery" is a bit of a misnomer since this park is actually called "Nelson A. Rockefeller," so don't get confused if one of the locals asks to meet you at "Battery Park." This is one of the original and most popular spots in the city, and it's an absolute must-visit if you're looking to throw down some power moves (see above). There are some great cat pass and stride challenges here, and the layout makes it easy to string longer lines together.
While it is walkable from the Lower East Side spots, I'd recommend hopping on a train so you don't have to walk from the river to river. The closest train stop is Chambers on the 1, but you'll probably have better luck taking an A or J train to Chambers or the R to City Hall.
One quick note here: You may (and probably will) get kicked out of this spot. It's technically a privately-owned park, so you'll see a handful of rent-a-cop security guards roaming the grounds (recognizable by their green shirts). While they can't arrest you, they can give you a court summons if you don't leave when they ask you to. Not all of them are jerks, so if you're nice and agree to leave, they might let you have one more go at a challenge if you're trying to film something.
WAGNER (AKA "ROBERT F. WAGNER JUNIOR PARK")
Looking for a soft place to work on your acro game? Wagner is a 15-minute walk from Battery and offers some soft turf with walls at varying heights to work on flips and flip precisions. You also get the added benefit of having the ocean AND the Statue of Liberty as your backdrop. Plus, there's a cool brick building at the front of the spot where you can work on some descending lines, but the chances of getting kicked go up if you train there.
SANCTUARY
Google Maps (the park with red roofs)
Whether you're training or not, walking through Riverside Park is a great way to spend a day in the city. However, if you're looking for a scenic spot with some varied obstacles and a couple of hefty running precisions, you should make your way to "Sanctuary," the unofficial name for this lounging/picnic area of the park. Take a train to Columbus Circle, walk west to the Hudson River, and head uptown until you see the distinctive red awnings and wooden structures.
Head to the Zoo
Storm Freerun - Storm Jam America NYC https://www.youtube.com/watch?v=Joa1VukKlZw
Too rainy/snowy/cold for an outdoor session? Take your training to the graffiti-covered Brooklyn Zoo for an open gym session (daily from 8:00 - 10:00 PM for $15). The first floor has your standard spring floor and foam pit, but you also have a trampoline (with a wall), aerial silks, and an airtrack at your disposal. On the second floor, you'll find a compact but dense series of walls and bars for all your parkour needs. You can also play on the rotating pole-dancing pole or test your strength with some ninja warrior-inspired challenges in the back.
Pro-tip: The front desk staff usually requires you to take a class before you're allowed to attend an open gym session. However, you can ask for an exception if you can pull up your Instagram and show them some advanced moves (or if someone on staff knows you and can vouch for you).
Tourist Traps
I know I know, I'm sure you're asking, "But what about Times Square?" To be honest, we usually don't go there because it's crawling with gawking tourists and there's very little training to be had in these areas of Manhattan (not least because security there can be intense). That said, I understand the allure of the neon lights, so I'll break down a few of the major hotspots along with some helpful tips from the locals.
TIMES SQUARE
This is where NYC earned its nickname "The City that Never Sleeps." The flashing lights from building-sized billboards can make these city blocks feel like daytime even at 3 AM. Times Square is always bustling with tourists, so there's no best time to visit. If you want that iconic photo that makes you look like Ryan Gosling in Blade Runner: 2049, head there after the sun goes down. Just make sure you skip dinner in this area and the surrounding theater district unless you're in the mood for some overpriced garbage. Also, beware the Naked Cowboy.
THE STATUE OF LIBERTY
Unless you're really jonesing to step foot on Liberty Island, my recommendation is to save some money and take the free Staten Island ferry. As long as you've got a decent telephoto lens on your camera, you'll get close enough to snap a few shots of the statue without dropping $18.50. It's also right next door to Wagner, so you might as well check it out.
1 WTC
I'm on the fence about this one. The 1 WTC building is the tallest skyscraper in Manhattan and will give you a hell of a view of the city from the viewing observatory, but at $34 per person, it's tough to recommend it. If you're dead set on getting some cityscape shots from up high, there are very few free (and legal) options available, so it might be worth the price.
OCULUS
The ivory spines of this modern-art-meets-porcupine structure make it a hotspot for tourists. It's right next door to 1 WTC and is a stone's throw away from Wagner, so you might as well pop in. Admission is free, there are public restrooms, and the location makes for some great photos.
EMPIRE STATE BUILDING/ROCKEFELLER CENTER
There are some other offerings if you're looking to gain some overhead perspective on the city. The Empire State Building's 102nd-floor observatory will run you about $58, or you can opt for the main deck on the 86th floor for $38. For $2 less, you can try the Top of the Rock, which grants you access to Rockefeller Center's 70th floor (note: It's not actually the top floor of the building, so it may be a little disappointing if you were expecting a rooftop). The view is cool, and you can take a cool photo (like the first one in this article), but I don't think it's an essential experience considering the price.
Cheap Eats
 I know NYC can be expensive. From plane tickets to Airbnbs to cab rides, a dollar doesn't really go that far here. Fortunately for you, grabbing a bite on a budget isn't impossible if you know where to look. Here are some of my favorite picks for cheap eats:
 The Dollar Slice:

Besides Donald Trump, New York is probably best known around the world for its pizza. Now you can splurge on a fancy pie if you want (I recommend

Joe's Pizza

for a classic slice and some quality

pizza time

,

Roberta's

for something a touch more modern, or my personal favorite,

Prince St. Pizza

), but I consider the dollar slice required eating while you're here. There are plenty of places around that offer this special on a greasy cheese slice, including the chain 2 Bros. Just fold it lengthwise and take a bite, but, for the love of God, don't use a fork and knife unless you want to be

publicly shamed

.
Pork Bun:

Shops in Chinatown (and one that's right across the street from Scoops) sell fist-sized pork buns for about $1 apiece. Never had one? Think of it like an oversized dumpling filled with shredded roasted pork and a savory sauce surrounded by pillowy bread. They're a perfect on-the-go snack to eat while traveling between spots. My personal favorite is

Sun Sai Gai

in Chinatown. Just don't be deterred by less-than-stellar health ratings.
Gyro/Street Meat:

The city is filled with street vendors selling lamb gyros, chicken over rice, and falafel platters from carts. As long as you're away from tourist trap areas, you can usually snag a platter for about $5-6. Be sure to ask for extra white sauce. I would also recommend checking out

Halal Guys

on 14th and 2nd since their portions are bigger and they have a seating area, but their prices are a little more expensive.
Pho Grand:

I was introduced to this joint by a squad of hungry traceurs when I first started training in NYC. For $7.25 you can get the "small" bowl of pho (which is a pretty hefty portion), or you can upgrade for an extra dollar to the large size if you're feeling extra hungry. I recommend the #1 Big Bowl if eating tripe and tendon doesn't gross you out.
Vanessa's Dumpling House:

There are three locations, but I think the original shop in Chinatown is the best. $2 will get you four fried dumplings, $4.50 will get you eight steamed dumplings, or you can grab a pizza-shaped sesame pancake sandwich with roast pork for $3.75. This place gets busy though, so order quickly, eat with purpose, and don't take up too much space.
Closing Remarks
 NYC is big, so you're probably not going to do everything you want to do unless you're here for a full month. That said, reach out to the locals (including me) if you're ever in town and you can usually connect with someone who is willing to be your tour guide for the day. We organize most of our jams on the Facebook group Parkour: NYC, so feel free to drop a post on there to see if anyone is around to train.
And, this should go without saying, but we gotta live here year round. Try not to piss people off too much (cops or security guards especially) while doing the touristy things. New Yorkers are actually pretty nice if you need something, but act like a dick and a phone clip of you might end up getting featured on WorldStarHipHop instead of ParkourTV.
Train safe out there.
Steve Zavitz is a Brooklyn-based parkour photographer, videographer, and athlete. His work has been featured by The Motus Projects, Norml Brand, STR/KE MVMNT, and Tempest Freerunning. To see more of his work or to connect, check out his Instagram @SteveZavitz or his website SteveZavitz.com.