Santorini - City Guide for Freerunners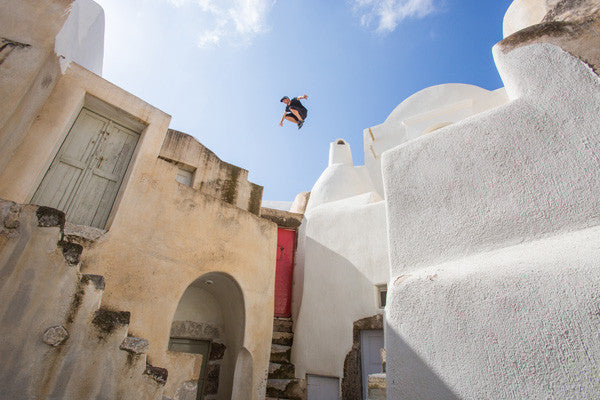 Are you a Freerunner? Are you going to Santorini? SAY NO MORE!
HOW TO GET AROUND
There are buses connecting all the main islands bigger towns, but I've never used them. Why? Because of Quads!
Quads are the most effortless transport on the island. You can easily grab a friend, stow your bags in the back and whizz around the coastline. Scooters are also available, but once you go off-road the four-wheelers win!
You'll pay anywhere between 10-15€ a day and find rentals all across the island.
For late nights infused with greek liquor there are late/early buses and taxi's, so ditch the Quad and let loose.
WHERE TO STAY
We've met Freerunners sleeping in abandoned buildings with their hammocks, others went camping, some fork out the money to book a nice hotel and once we got to shoot in a luxury Hotel frequented by the Kardashians. 
We like to settle somewhere in the middle and rent an Airbnb. After looking around shared rooms and apartments in town we settled on a room by Perissa Beach.
A little off from everything you still have everything you could ask for: a pretty black sand beach, food, smoothies and with our quad nothing is too far away.
Your 30-minute drive to the Art of Motion is chill because it looks like it's taken from a car commercial.
 Click on the names of places, for detailed GoogleMaps link ;)
If heaven was a Freerunning-spot this is what it would look like. The village has a strong medieval character with winding back-alleys leading up the hill towards a grand church.

Usually, we park our Quad next to an abandoned petrol station in the town square, the streets become too narrow for driving anyway.
On foot we slowly made our way to the top, using the church-tower to navigate.
We have to be aware that there are 1.700 people living in these ancient houses and to remain respectful. We've gotten too excited before and over-stepped the boundaries a little, now we do our best to train in the areas nobody cares about.
By one of the lower churches, there's a cute coffee shop with tables out on the street. The greek yogurt they serve makes it well worth the walk. 
We only found this gem during our most recent trips. Pyrgos, is tucked away a little bit, away from the main road we frequent to cross the island. With its badass spots it's now at the top of our list. Lots to explore and chill little cafés to stop for a drink and some food.
You can see us explore the spot in the first 6 minutes of this Edit:
After our session, we stopped by a restaurant at the foot of the hill. To our surprise, the young guy working there was wearing a Storror bracelet. He told us he let them sleep on the couches out front of the restaurant one time. If you need a snack, say "hi" at Kantouni Restaurant.
Riding along the main-road we pass a sign reading "Megalochori" and decide to have a look.
You can drive your Quad straight down the streets past a variety of shops. We parked it in a lot at the village's entrance. Walking down the main-road we felt this village was a lot quieter than other parts of the island, while still offering some gorgeous spots. 
In a rush, we didn't have enough time for a session, took some photos and moved on. Can't wait to come back and see more.
While the above towns are inhabited by locals, Fira consists mostly of hotels and guest-houses, bars, merchandise, and restaurants sprawling along the cliffs. Among them lays the original Art of Motion course.
Freerunning spots are plenty, but we have to remind ourselves that we'll get into trouble if we leave a footprint on the wrong wall or land a frontflip in some expensive hotel.
Of course, we can't resist and dart in and out of places sneaking a quick jump here and there and pretending that the floor is lava as we walk along.
To find the original Art of Motion course ask for "Danas Villas" Hotel.
Far from the scenic view, but right by the main road is the plaza spot. A lot of 
This spot is an off from the scenic side and right by the main road. It's getting a special mention because it's popular among visitors. Great for extended sessions you are likely to encounter other Freerunners.
Is our favorite Beach and a super chill spot. Not much to do Freerunning wise, but wanted to let you know.
They say Oia offers the most beautiful sunset in Santorini. Not that there are any ugly ones. This is where you will find more tourists, shops, restaurant, expensive hotels, iconic windmills and somewhere in between the new Red Bull Art of Motion course.
As always on Santorini, there are jumps to be found and especially during AOM season, everybody seems to be a lot more relaxed about Freerunners jumping around.
We recommend getting yourself some food in the streets and then finding a cozy rooftop to watch the event. Don't forget a water and sun-protection!
Right below Oia you will find a little port. It's called Ammoudi and is known for fresh seafood with a gorgeous view.
Less known is, that you can walk past all the restaurants on a small trail, around the bend to a secret cliff-diving spot. 
After ten minutes the trail ends in a little spot locals use for swimming. Standing there you will see a small volcanic island. It will look like just another rock, but once you swim around it reveals what looks like a secret pirate hide-out.
From here you have a perfect 5m jump into the sea. Enjoy!
Ammoudi Pirate Map:
The less photographed side of Santorini
Everything you see above is really just scratching the surface. Santorini has many hidden spots to explore, locations you'll never find in a guide.

There is an army base on a hill, a lighthouse, tons of abandoned buildings, epic nature, little-hidden churches and even caves. We had the best time driving down dirt-roads and exploring the fringes of the island. Go and explore!
Have fun!
Have a memorable trip. We hope we could contribute a bit, let us know what we could add or if this was helpful, please!