Bangkok - City Guide for Freerunners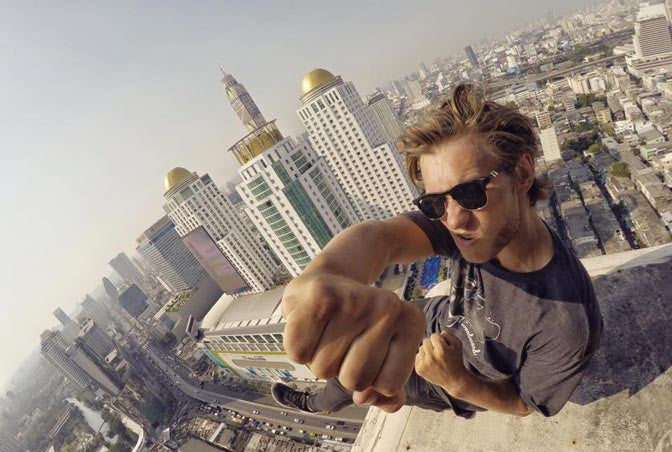 Thailand's capital is like the Wild West for freerunning. Authorities are rarely bothered, mostly asleep and always friendly.  People tend to leave the door to their rooftops open and everybody gets excited and will forgive your trespassing, if you bust a flip.
It's the perfect trip to save up for, and then you can make your money stretch for months. Thailand flows differently from the rest of the world, and Bangkok is the perfect starting point for an adventure all across this country or continent.
Disclaimer: Most of these locations are outside of what a normal tourist or sane person would consider a fun-holiday. Enter at your own risk, be careful and don't get mad at us when you have to dis-infect a monkey-bite. And now have fun!
Getting Around
Bangkok seems chaotic at first, but there is a system to it. Forms of transportation include Taxis, Taxi-Scooters, Skytrain (BTS), Underground Train (MRT), Airport Train-Line, the iconic TukTuks and even boats. Sounds overwhelming, we'll try to explain how to get to our favorite spots in detail, but here are some basics:
In Bangkok, you want to use the Skytrain, aka BTS, as much as possible. It hits most important parts of the city or at least gets you close to them. The BTS runs from 6:30 in the morning to about 23:00 o'clock. Click here for a BTS and MRT map and more info.
Whenever the BTS doesn't get you where you want to be, jump into a cab. Another option is using the scooters, which is more thrilling and a lot faster during rush hour.
Other, than most places around the globe giving the driver an address isn't very useful. First of all he won't be able to read english letters and even if you have the address in thai, Bangkok is too gigantic for any driver to know all the streets and back-alleys.
What they usually do know are big department stores, universities, airports, train-stations, main-streets and landmarks. Look your destination up online and scan the map for any of the above-mentioned that are close by. Have the driver get you there, navigate him further on or just jump out and walk the rest.
Cab-Drivers very rarely try to hustle you for more money. To be safe just make sure to not agree on a price before taking the cab and if they don't turn on the taxi-meter remind them gently. When coming from the airport or using the highways you will be charged with an extra fee. 
Good to know
- Street-Food is delicious and cheap, get on it! Especially if you are traveling on a budget.
- Showing a thai-person the sole of your feet is equivalent to showing them the middle finger
- Thai-People love the king so don't disrespect him. Especially stepping or treating the money badly, which has his face on it. Public places play his anthem at 6AM and 6PM, you will notice that everybody stops whatever they are doing to listen. Do the same!
- Climbing on Buddha-statues is not cool.
- Drinking ice-water is fine, but drinking tap-water isn't recommended.
- bring a sweatshirt, thai people love to blast the air-con in trains, cinemas, etc.
Amidst the crazy skyscrapers and villages of Bangkok, you will find some speckles of green. These parks are loved and frequented by the locals to chill and workout. Between outdoor gyms, lakes, Thai boxing and running tracks, you will find the odd freerunning spot. Rocking up at around 3 in the afternoon, you can meet talented freerunners busting out on their incredible bar-set at Taksin Park.
How to get there: Take the BTS Skytrain to "Saphan Taksin," and then either cross the river via a ferry or just walk across the bridge. The park can't be missed and is right under the bridge! Google-Maps Link.
Sure, Bangkok is full of lumbering glass towers that loom above the little street stalls and busy streets, but here you'll find one that stands out. This 50-story skyscraper was abandoned mid-construction during the economic crash in the 90s. Enter at your own risk, and be careful: this site is falling apart bit by bit, and death drops into empty elevator shafts and corroded metal are everywhere.
We want to use this space to apologize, because we kind of ruined this for everybody. Access to the tower used to be easy until we filmed a video of us exploring it. Today a police-report featuring our faces is on display in front of the tower and security is super-tight. Still want to give it a try? The view from the rooftop is gorgeous!
How to get there: Take the BTS Skytrain to "Saphan Taksin" and have a look around. Trust me you'll see it. If you rock up early in the morning you can hit up the Taksin Park across the river for some training first and then climb the tower to watch sundown. Google-Maps Link.
If you're looking for a night out away from the clubs frequented by tourists, we would take you to the Nest Rooftop-Bar. The venue is super-chill, our favorite DJ Arin spins here and they make us feel at home by regularly playing freerunning compilations and Farang videos on their projector.
Bring photo ID—drinking age in Thailand is 21. 
How to get there: Take the BTS to NaNa, walk down Soi11 all the way to the T-Junction and turn left. You'll find Nest coming up on the left-hand side.
Google-Maps Link.
Bangkok lives for shopping, and that's why you'll find malls at EVERY corner. However nothing beats JJ Market, with its assortment of new and used goods like vintage clothing, furniture, artwork, food, and even pet monkeys. One day won't be enough to cover the whole market, and that's why we keep coming back.
Not into shopping? The park bordering the market has a really chill vibe and some badass spots, which are worth the trip anyway! Check out Pasha and Vlad messing around on a fraction of available obstacles.
How to get there: Jump on the BTS Skytrain and ride all the way to "Mo Chit." You'll be able to see the park from the train station, and if you venture into it you will find all spots easily. The market is right there, too. Simply ask the locals for directions to "Chatuchak Market." Remember! Chatuchak is a weekend market and will only be there on Saturdays and Sundays! Google-Maps Link.
The Stadium borders a big uni campus and has some of the best street-spots you'll find in Bangkok. Truth be told, they are nothing incredible compared to what you would find in London or Singapore, but definitely worth a good day of training.
The more adventurous might want to venture inside the actual stadium. Security are constantly present and there are better spots on the outside.
How to get there: Jump in a cab and they will know the Stadium and Uni. Avoid rush hour, traffic gets terrible around there.
Google-Maps Link.
We almost couldn't believe our eyes when we saw a bunch of airplanes sitting right next to the street. For whatever reason these stripped airplanes are rusting close to the Rajamangala Stadium.

The owner is paying locals to live on the property and look after the planes. We paid them a 1000THB per person, per hour to get in and felt like it was worth it for some fun jumps and a great photo-location. Be nice and polite to the locals, or they might just decide to kick you out.
How to get there: You could get a cab to Rajamangala Stadium and walk. If you want to have the driver drop you off right next to it tell him to go to "Ramkhamhaeng Road Soi 107".
Google-Maps Link.
BOUNCE - Trampoline Park
There is no such thing as too many trampolines and that's why BOUNCE is one of our favorite places to hang out. They have an armada of trampolines, boxes and walls to bounce off of. Perfect for a fun afternoon or when you want to work on your air-awareness.
We shot our video at their THE STREET venue location. You get there by taking the MRT line to "Thailand Cultural Center" and walking 200meters straight down the road.
Google-Maps Link.
They are also about to open another location in the EmDistrict shopping center (which we invaded for this video). This spot is connected to the BTS station "Phrom Phong".
Google-Maps Link.
Day-Trips

None of these sports are in Bangkok, but we wanted to include them nonetheless. Arranging further cab rides or even getting a van including a driver to visit these places is worth it and surprisingly affordable if you're in a group.
Whenever we want to get away from Bangkok's craziness a trip to ThaiWakepark is at the top of our list. We'll spend the day enjoying the calm of three lakes located in-between rice fields. 

After enjoying some great food while watching some of the world's best wakeboarders flipping across the lake we can choose in-between grabbing a wake-board ourselves, bouncing on their trampoline, tricking on the grass or getting a Fresh Coconut and doing absolutely nothing.

How to get there: Click here for detailed instructions on their website and click here for a Google-Maps link.


An ambitious playground-project and accidental dream-spot. Located right by the beach in between palm-trees we love the tranquil vibe you feel when sessioning this area. The red walls and odd angles offer thousands of interesting lines and combinations.

If that's not enough there is a huge playground right next to it, you could describe it as a rail-precision buffet. At sunset house-wives and families gather for a synchronized workout dance-session.
That's not your style? There's also a beautiful pier with a perfect ledge to flip into the sand. All that in front of a backdrop of Thai-fishing boats.
How to get there: Take a taxi to BangSaen Beach in ChonBuri. The Labyrinth is part of the public park and you can easily spot it from the street, if you keep driving along the beach. However, the spot is to new to be on Street-View, but this is the exact location: Google-Maps Link.
Looking for monkey-action? Search no more!

LopBuri is one of many small towns two hours outside of Bangkok. What makes this town special are literally a thousand monkeys hanging out around an ancient temple.
LopBuri owes a huge part of their income to tourism, because of their monkeys. To show their appreciation they throw a huge buffet aka the Monkey Party every year on the 29th of November.
It's pure madness! The monkeys take over the city, climb rooftops and people. Worth it!
How to get there: Take a taxi to LopBuri, this is the location on Google-Maps.
The ancient capital of Thailand is about 80km north of Bangkok. The ruins of the city form a National Park and invite you to explore. If you decide to do Freerunning be aware of the locals and stay respectful. Don't climb above the Buddha's stick to the lesser visited temples and ruins, use common sense and don't risk damaging the historic sites.
How to get there: There are many services offering day-trips in buses or private vans. Google around and just in case you can find the location here.
Huge thank you to Emily Dyan Ibarra for most of the badass photos! Did we miss any spots? Let us know in the comments and we'll do our best to update this list!