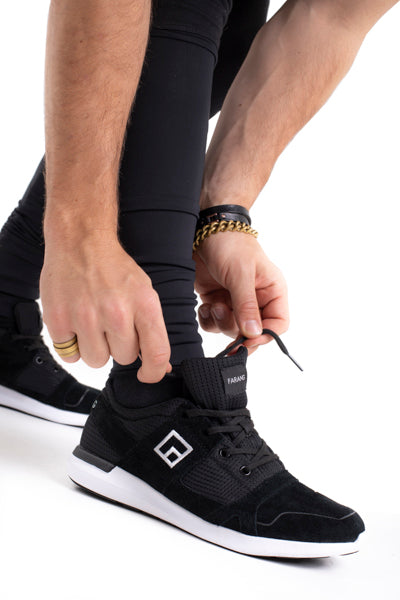 ELEVATE - SHOE - BLACK
$93.50
The wait is over. ELEVATE shoes were designed for parkour by parkour athletes. It took us two years to make for two reasons:

1. We never made a shoe before and had to figure out what the hell we were doing.
2. We wanted to do a really really really really good job.
Doing parkour for more than a decade we have seen the good, the bad and the ugly of shoes come and go. We distilled what made our favorites so great and combined all ingredients into one product. We named our first shoe ELEVATE because it will help you elevate yourself (duh). Of course, the name carries more meaning beyond that.
We also wanted to elevate Farang as a brand and our skills as product designers. We all know that you grow with your challenges and designing a shoe was our biggest challenge, yet. It was also the most rewarding. It's been a dream of ours long before Farang was even a thing. Finding a good shoe was always a problem. Usually, you spend a day going from store to store, to end up buying a shoe that's just somewhat okay. Even if you're lucky and find a good shoe they stop making it soon after. You know it, you've probably been there multiple times.
How cool would it be to have a shoe that's just right? A shoe that's really for us? That's what we wanted to make and after years of experience making clothing, we finally felt ready. It was kind of like that huge jump in your city that you look at for years and then one day you're finally strong enough to go for it.
We also believe that, if we all keep challenging ourselves as athletes, designers and creatives the culture of parkour will grow. That's why we called it the ELEVATE.
FEATURES
GRIP - Our custom one-piece rubber sole provides good grip on all urban surfaces. This makes them great parkour shoes, but terrible for moon-walking. Sorry, Michael.
CUSHION-  We carefully selected the shape and density of our foam. It's soft and flexible to allow all angles of movement. When it comes to thickness, balance is very important. A thick sole will absorb a lot of impact, but you won't be able to feel the ground. A barefoot sole provides great touch but no cushioning. When we built the ELEVATE, we wanted it to be right in the middle of that spectrum. With our foam, you will be able to land softly (unless your technique sucks) and feel in touch with the ground.
Our insole is removable if you wanna get fancy with it.
WEIGHT - To be honest, it's not the lightest shoe ever, because we wanted it to be durable. But, it's still pretty damn light.
DURABILITY - We tested the durability of the ELEVATE in a high-tech laboratory with world-class shoe scientists. They even made a small version of our shoe, then put them on lab-rats and taught them parkour. The results look phenomenal. Okay, I wish we could say that… instead, we took the shoe out ourselves and did as many jumps as possible. We enforced all the common break-points and are really satisfied with how long it lasts. We hope you will feel the same, whether you're a human or a rodent.
LOOKS - Your mum lied to you when she said it's all about who you are on the inside, not about how you look.
The truth is both counts. No matter how well a shoe performs, if it looks bad we won't wear it. We wanted the Farang shoe to feel athletic, but look casual and minimal. You can tell from the images, that it looks sleek and is easy to wear.
That's it guys and gentlewomen. It's been a crazy journey and we are happy to finally share the final product with you. Excited to see where you'll take it. Also let us know how you destroy our shoe, because eventually, you will, so we can make even better ones in the future!
More Details