FISE Hiroshima Results and an Unfortunately Worded Tweet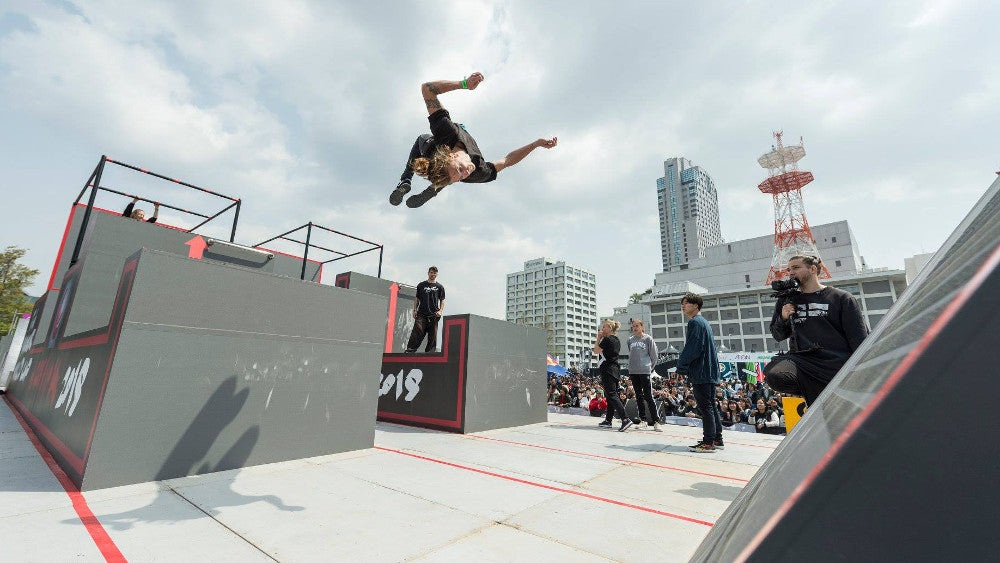 I take a look at the parkour results from the latest FISE event in Hiroshima, and then look at the controversy caused by an unfortunately worded tweet by the Olympic Channel.
A few weeks ago the first FIG organised 'World Cup' for parkour took place in Hiroshima, Japan. It was featured as a part of a larger FISE event which showcases various action sports on a global circuit. Most the athletes that were flown in were from Europe, but a few other continents were also represented. I believe it was the first international parkour competition to take place in Japan since the 2011 Red Bull: Art of Motion.
The event featured a separate men's and women's version of both a 'speed run' and 'freestyle' competition. According to the FISE website, the event was a success and generated a lot of public interest. A 2nd FIG World Cup event is scheduled to take place in Montpellier, France in May.
The podiums of each of the competitions were as follows:
Women's Freestyle Finals:
1st Place: Karla Castellano Gonzalez (21, Mexico)
2nd Place: Aleksandra Shevchenko (31, Russia)
3rd Place: Saskia Neville (26, Netherlands)
Men's Speed Run Finals:
1st Place: Pedro 'Phosky' Gomez (25, Spain)
2nd Place: Jeremy Lorsignol (32, France)
3rd Place: Christian Harmat (26, Switzerland)
Women's Speed Run Finals:
1st Place: Saskia Neville (26, Netherlands)
2nd Place: Hikari Izumi (22, Japan)
3rd Place: Anna Griukach (28, Ukraine)
Men's Freestyle Finals:
1st Place: Pavels Petkuns (25, Latvia)
2nd Place: Waldemar Muller (Germany)
3rd Place: Kamil Tobiasz (25, Poland)
Congratulations to all the winners, who all took home a considerable chunk of prize money. Despite a few issues with rain initially, it seemed like a fun and well-run event. The course looked decent, and a sizeable crowd turned up to watch. I'm sure getting to meet David Belle was an exciting bonus for many as well.
 
Of course, it is no secret that there is a lot of controversy surrounding the FIG organisation and its involvement with Parkour. With some arguing that FIG (Fédération Internationale de Gymnastique) is illegitimately appropriating and encroaching on the sovereignty of an established sport. Others argue that they are the organisation that can take parkour to the next level, and provide opportunities within the sport for athletes in less developed countries. Divides within the community surrounding this topic were further ignited recently after an April 12th Tweet from Olympic Channel - a secondary twitter feed of the official Olympics organisation.
Many people took exception to the Olympic Channel framing Parkour as a new "gymnastics discipline". Eugene Minogue - CEO of Parkour UK hit back with a tweet of his own, accusing the gymnastics federation of breaking the Olympic charter by encroaching on parkour:
Parkour is NOT "the new #Gymnastics discipline". Parkour/Freerunning is a recognised sovereign sport & community that @gymnastics is attempting to encroach & misappropriate in violation of the @Olympics charter https://t.co/qDTXT8Np5C #WeAreNOTGymnastics ✊🏼 @ParkourEarth pic.twitter.com/0FZvVYWQHQ

— Eugene Minogue (@EugeneMinogue) April 14, 2018
Several other notable parkour community members shared similar sentiments across social media. Even Storror, who have historically tended to stay out of political debates within the sport weighed in with a status of their own:
It's a bit more difficult to find outspoken defenders of the FIG. But one person who has consistently argued on their behalf is David Nelmes, who competed in the Hiroshima event. He posted a status of his own regarding recent controversy, where he urges people to direct their frustration at the olympic channel, and not the FIG:
Christian Harmat, who placed 3rd in the speed competition also had this to say, expressing some sympathy for FIG:
As you can see this innocuous-seeming tweet from the perspective of the Olympics Channel has added more fuel to an already burning flame. It's a very divisive issue, and the content of the tweet for many is evidence of everything they were worried about regarding the FIG's involvement with parkour in the first place. Hence it struck such a nerve. An innocent mistake perhaps, but understandably inflammatory nonetheless.
All this comes hot on the heels of another point of contention of a similar vein. Where Ryan Ford, founder of Apex Movement pointed out that the parkour athletes competing in the FIG world cup were listed as 'gymnasts' on the FIG website. In the following days, the website was altered so the athletes would be listed as 'athlete' instead of 'gymnast'.
- - -
This is not a write up about the FIG situation at large - I still feel nowhere near qualified enough to do that justice right now. I'm just reporting on the issue flaring up again as a result of recent events. I have my opinions, but I'm trying to stay as neutral as I can for now. In the future, I will be looking into this topic a lot more deeply, and trying to write something about it. So feel free to reach out and talk to me about your perspectives.