Air Wipp Changing the Face of Women's Parkour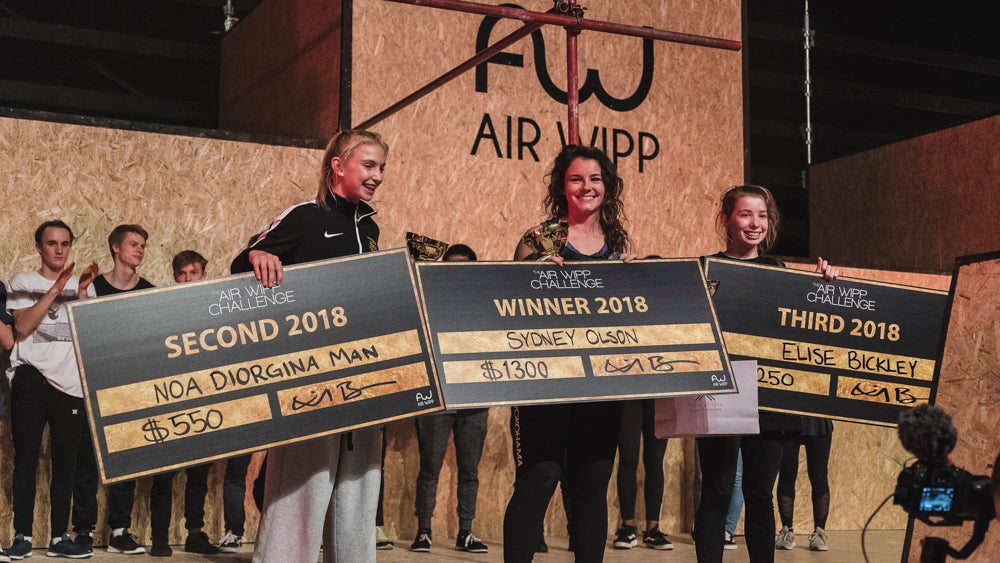 This year's Air Wipp competition seemed like a real step up as far as parkour events are concerned. As a spectator, everything felt pretty polished - with an incredible stage setup, complete with lights and pyrotechnic effects; a live stream commentated by Frosti Fresh and Benj Cave, finessed by an incredible camera crew of some of Parkour's biggest creative names; and even massive checks presented to the athletes, it seemed like nothing had been overlooked. However, what impressed me most about the event was Air Wipp's effort when it came to the women's competition, with steps being made to include women in the main event and to pay athletes equally. I spoke with Sydney Olsen, Noa Diorgina Man and Elise Bickley who made the podium, to find out how they found the event and how its changing their training.
 When it comes to competitions, I find that the honorary 'best female competitor' title seems a like an embarrassing afterthought, however, Air Wipp is amongst the forerunners when it comes to creating a real space for women in competitive parkour. Noa explained, 'I have only experienced two competitions with a women division, The Dutch Championship, and the Air Wipp Challenge. In the rest of the competitions I have been in, I competed against boys. I won't be beaten as easily, but most boys are stronger, so it's harder for me to compete against them.'
By allowing women to compete separately from men (like in virtually all other sports) women are given their own space to explore female movement without having to feel as though they have to compete against a group of people with completely different body types to them. Air Wipp gave women their own final in 2017. However this year they went a step further by bringing the women's final onto the same day as the men's. Sydney told me, 'I competed last year as well, but the events were on separate days. After watching the men's event and seeing the value of it, I requested to Marcus and Filip that the women have finals on the same day as the men. They agreed, and it was absolutely amazing to be part of the main event.'
By bringing the male and female finals side by side, the female finalists were able to do their runs in front of a stadium of people (and be live-streamed to the rest of the world) rather than just performing in front of other athletes who were trying to qualify for the event and a few passers-by. This move is a hugely important one, not only because it legitimizes the women's comp but also pushes women to perform at a much higher level. Noa told me 'When I put my feet at the set-up and watched the crowd cheer, the feeling was amazing. It energized me and made me incredibly happy; I think everybody could see that on my face.'
Air Wipp's next move was another fantastic step in creating a nurturing environment for female athletes, by giving equal pay to the male and female athletes. And, with other established extreme sports like surfing, ski jumping and cliff diving being some of the last sports to award still not equal pay, its great to see, such a young sport like parkour, already showing that they value all their athletes equally.
These efforts from Air Wipp drew a great turnout of female athletes to the event, from all over the world. And, with higher stakes and a bigger platform to perform on, we saw the women pushing themselves harder to the podium. Noa told me 'Airwipp got me inspired to train harder because the girls in that competition are really killing the stage.' and Sydney agreed - 'From me being one of the only girls, to suddenly competing against 15 other badass girls in our own division... It's going to inspire more women to take the sport seriously and want to get involved in the competition.'.
And, don't just have to take their word for it - it was pretty clear from their runs that Sydney, Noa, and Elise were pushing themselves to perform to a very high standard. With Sydney's solid connections and powerful landings, Noa's energy and unique style and, Elise pulling out two double flips in one run should hopefully inspire more women to push their abilities to new levels.  
Competition is such a fantastic driving force when it comes to pushing people to improve their abilities and, by creating fiercer competition, we will hopefully see female parkour athletes pushing themselves to train harder for the next event. What Air Wipp achieved this year was not just setting a precedent for women in competitions, Air Wipps actions, and any other comps that follow suit, have the potential to affect the whole of women's parkour for the better. If female athletes are encouraged to push the bar higher others will follow, and by women sharing their progressions on social media, the sport has the potential to blossom just like we've seen with women's skateboarding recently.
It would be pretty crazy to talk about this event without mentioning that two of the women that podiumed are not, in fact, yet women at all. Noa who took second place is 13 years old, and Elise, who took third is 14. How is it that two of the best female parkour athletes in the world are still at school? A combination of things are in play - Access to gyms has become a huge driving force in the swift progressions of these girls, Noa having been coached at the Jump Freerun academy since she was seven years old and Elise having access to train at NovaCity. Access to safe, welcoming spaces like gyms, is especially important for young girls as training on the street can be particularly dangerous for young women and can cause anxiety about entering these spaces.
Noa and Elise both credited social media for their inspiration which is another large factor in forming talented female athletes. Women like Sydney Olsen, Lynn Jung and Pamela Forster killing it in competitions and posting their daily grind, inspires others to understand what their bodies are capable of and what it possible to push themselves to. Elise told me - 'I always like to try tricks that I see on Instagram and put them in a line.'
The community is also starting to show a huge amount of support for female athletes, and you could see from the support of the crowd at Air Wipp that this is certainly true. Online, Noa told me she's had male athletes stand up for her in the comments of her videos (big up Joe Scandrett). She also explained that in her local community it's hard to find girls to train with but, 'When [she] started [her] Instagram [she] was quickly approached by more and more girls from all over the world who do freerunning.' And offline, women's only training sessions have been popping up around the country, and events like Air Wipp, which make room for bigger groups of women to come and train together are helping to grow the parkour community in a more diverse and interesting way.
All Photos By Aleks Magnusson 
About the Author: Fay Fillingham
Faye is a writer and fitness model from Brighton, UK. After becoming the youngest British woman to walk the Continental Divide Trail in 2014, she has become an advocate for women using extreme sports and outdoor pursuits as a tool to combat mental health problems.