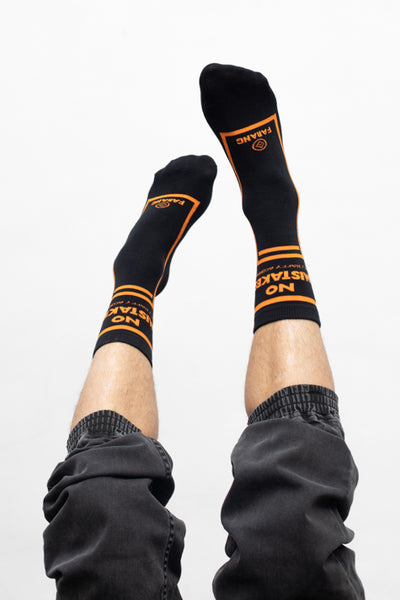 NO MISTAKES - SOCKS - BLACK/TANGERINE
$9.00
"NO MISTAKES- only happy accidents" is the orange text on your shin while wearing these socks. Busted up shins aka "Shinjuries" are sadly an event every Freerunner is used to. These socks won't do much to protect you from a messed up landing, however they will remind you straight away that there's a positive lesson to be found in any mistake. Many of the our most creative tricks started out as mistakes or accidents, so stop crying and get back to work!
Pretty deep, I know. To balance out our profound philosophical teachings the remaining orange lines on the sock are completely meaningless. We just thought they look cool. Also there's a Farang text and logo placed on the top of the foot. Bye.
Made from 90% Cotton and 10% Spandex.
More Details